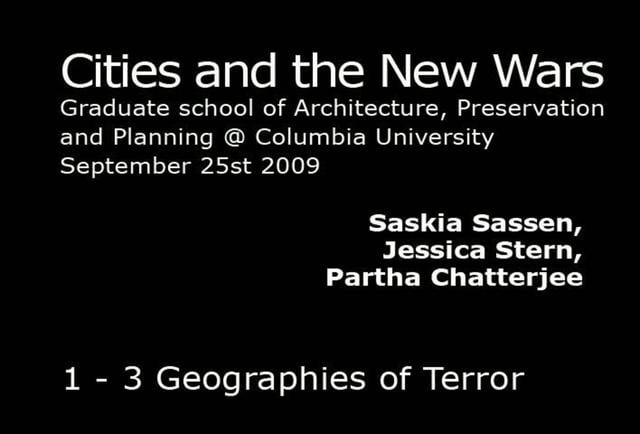 Robert S. Lynd Professor of Sociology ans Member, Committee on Global Thought.
Speakers:
Partha Chatterjee - "The Black Hole of Empire"
Professor of Anthropology and Member, Committee of Global Thought at Columbia University and, Professor of Political Science at the Centre for Studies in Social Sciences in Calcutta, India.
Jessica Stern - "Terrorist Rehabilitation Camps and Counter-Radicalization"
Professor of Law and Affiliate, the Belfer Center's International Security Program, Harvard University." />
Cities and the New Wars
September 25-26, 2009 • 1:00PM – 6:45PM
Columbia University, Avery Hall, Wood Auditorium
How do cities confront conflict? This conference approached this question from two perspective. First, it explored the multiple meanings of the new urban wars: asymmetric armed conflict, US Army training for the "urban enemy," forms of economic violence that kill, cities and urban space as a technology for war, and civil war refugees and their flight from and to cities. Secondly, it probed the limits of power and of war: the role of the civic, war and law, the consequences of the growing global web of interdependencies.
This conference was part of the Signature Research Project Urbanizing Technology: The Mobility Complex.