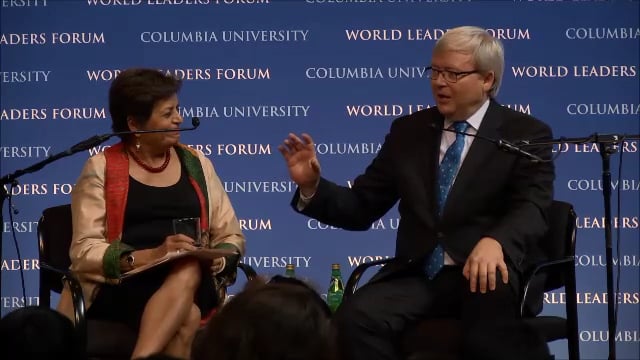 September 17, 2015 · 11:15AM-12:15PM
Rotunda, Low Memorial Library
Hon. Kevin Rudd, President of the Asia Society Policy Institute, Prime Minister of Australia (2007-2010, 2013), Foreign Minister of Australia (2010-2012)
Welcome: Dr. Vishakha N. Desai, Special Advisor for Global Affairs to President Lee C. Bollinger, Professor of Practice at SIPA, and Member of the Committee on Global Thought, Columbia University
Respondent: Steven Cohen, Executive Director of The Earth Institute, Professor in the Practice of Public Affairs, Columbia University
This World Leaders Forum and Global Thought Lecture features an address by The Honorable Kevin Rudd, President of the Asia Society Policy Institute; Former Prime Minister and Foreign Minister of Australia, titled The Rise of China and its Impact on the Global Order. The discussion will be followed by a question and answer session with the audience." />
2015 Global Thought Lecture & World Leaders Forum
The Honorable Kevin Rudd
The Rise of China and its Impact on the Global Order
September 17, 2015 · 11:15AM-12:15PM
Rotunda, Low Memorial Library
Hon. Kevin Rudd, President of the Asia Society Policy Institute, Prime Minister of Australia (2007-2010, 2013), Foreign Minister of Australia (2010-2012)
Welcome: Dr. Vishakha N. Desai, Special Advisor for Global Affairs to President Lee C. Bollinger, Senior Research Scholar at SIPA, and Member of the Committee on Global Thought, Columbia University
Respondent: Steven Cohen, Executive Director of The Earth Institute, Professor in the Practice of Public Affairs, Columbia University
This World Leaders Forum and Global Thought Lecture featured an address by The Honorable Kevin Rudd, President of the Asia Society Policy Institute; Former Prime Minister and Foreign Minister of Australia, titled The Rise of China and its Impact on the Global Order. The discussion was followed by a question and answer session with the audience.
Special Workshop for Undergraduate Students
The Undergraduate Committee on Global Thought presented a workshop with Dr. Vishakha N. Desai on Wednesday, September 16, at 5:00 pm. The workshop was only open to students of Columbia College, School of General Studies, Barnard College & SEAS. Click on the "UCGT" tab above for more information.
Special thanks extended to University Programs and Events and the Office of the President of Columbia University.
---
 Photo Gallery