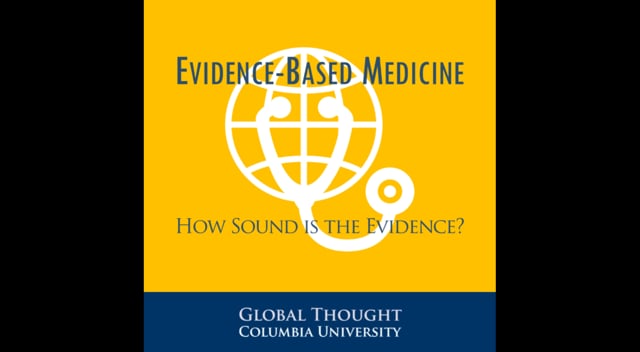 Global Think-in:
Evidence-Based Medicine: How Sound is the Evidence
April 23, 2015 from 1:30PM – 3:00PM (EDT)
East Gallery, Buell Hall (Maison Française), Columbia University
David Madigan, Professor of Statistics, EVP and Dean of the Faculty of Arts and Sciences, Columbia University
John Ioannidis, C.F. Rehnborg Professor in Disease Prevention in the School of Medicine and Professor of Health Research Policy, Stanford University
Wafaa El-Sadr, University Professor, Epidemiology and Medicine, and Director, International Center for AIDS Care and Treatment Programs (ICAP) and Global Health Initiative, Mailman School of Public Health, Columbia University
Steve Lohr, Technology reporter for the New York Times, and author of Data-ism (Harper Business, 2015)
"Rethinking Knowledge: Evidence-Based Medicine" addressed how randomized clinical trials provide the highest quality of evidence with regard to the efficacy and safety of medical interventions such as drugs and surgical procedures. However, cost and ethical considerations dictate that randomized trials are few and far between. Instead the healthcare system increasingly relies on "observational studies" to inform the care of patients. These studies typically analyze patient-level data gathered for other purposes such as patient care or billing. There is a growing realization that many of the "findings" from such studies are wrong. Biases that randomized trials so elegantly circumvent, bedevil observational studies and render their conclusions meaningless. As a consequence, so-called "evidence-based medicine," as widely practiced around the world, isn't. The think-in examined the social and scientific history that has led us to this crisis-point and discussed possible ways forward.
From taking stock of past and present efforts, to examining the assumptions built into the very premise, to speculating on the necessary reconfiguration of academic disciplines, this CGT Think-in aims at a free flowing exchange in which the contours of the problem are sketched and possible models are tested. To facilitate this, the format contains two parts: a small, closed-door brainstorming lunch with invited participants, followed immediately by an open public discussion.
Directions to Buell Hall.
Registration at ebmthinkin.eventbrite.com.
Part of the Global Think-in series: Rethinking Knowledge. 
Photo Gallery