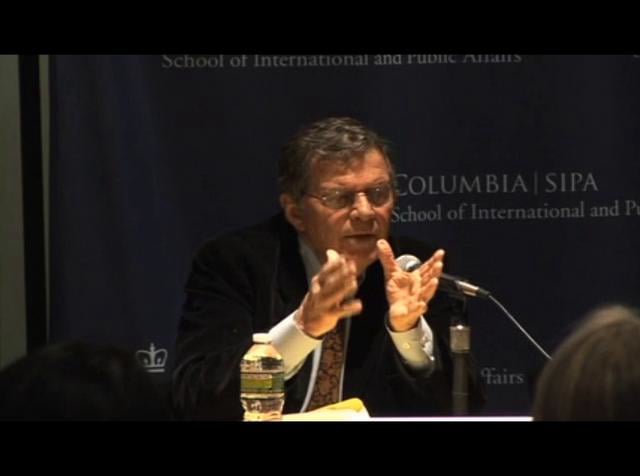 Moderator Professor Michael Doyle introduces the topic and Professor Alfred Stepan discusses "Comparing Transitions"
MICHAEL DOYLE
Michael Doyle is the Harold Brown Professor of U.S. Foreign and Security Policy, which is a three-fold appointment in the School of International and Public Affairs, the Department of Political Science, and the Law School. His research interests include international relations theory, international law, and international history; civil wars and international peace-building; and the United Nations. Since 2006, Doyle has been an individual member of the UN Democracy Fund, which was established in 2005 by the UN General Assembly to promote grass-roots democratization around the world. Doyle currently serves as the organization's chairperson. He also co-directs the Center on Global Governance at Columbia Law School.
In 2009, Doyle became a member of the American Philosophical Society, and, that same year, he received the Charles E. Merriam Award from the American Political Science Association. The award is given biennially "to a person whose published work and career represent a significant contribution to the art of government through the application of social science research." In 2001, Doyle was elected a Fellow of the American Academy of Arts and Sciences.
Doyle previously served as assistant secretary-general and special adviser for policy planning to United Nations Secretary-General Kofi Annan. He formerly taught at Princeton University, Johns Hopkins University, and the University of Warwick in the United Kingdom. At Princeton, Doyle directed the Center of International Studies and chaired the editorial board of the committee of editors for World Politics. He served as vice president and senior fellow of the International Peace Academy and currently is a member of its board.
ALFRED STEPAN: "Comparing Transitions"
Alfred C. Stepan is Wallace Sayre Professor of Government and was Dean of SIPA (1983–91).
Stepan's teaching and research interests include comparative politics, theories of democratic transitions, federalism, and the world's religious systems, and democracy. He has published Arguing Comparative Politics (Oxford 2001); Problems of Democratic Transition and Consolidation: Southern Europe, South America, and Post-Communist Europe, with J. J. Linz (Johns Hopkins 1996); Politics, Society, and Democracy: Comparative Studies, which he edited with H. E. Chebabi and J. J. Linz (Westview Press 1995); Rethinking Military Politics: Brazil and the Southern Cone (Princeton 1988); The Breakdown of Democratic Regimes: Chile, which he edited with J. J. Linz (Johns Hopkins 1978); The State and Society: Peru in Comparative Perspective (Princeton 1978); and The Military in Politics: Changing Patterns in Brazil (Princeton 1974).
Professor Stepan earned his BA from University of Notre Dame in 1958. He received a BA and an MA from Balliol College, Oxford University in 1963 and a PhD from Columbia University in 1969. Stepan was a professor of political science at Yale University (1976–82), Burgess Professor of Political Science at Columbia (1987–93), served as first rector and president at Central European University (Budapest, Prague, and Warsaw) (1993–96), and was Gladstone Professor of Government and fellow at All Souls College, Oxford University (1996–99). Stepan is also a fellow at the American Academy of Arts and Sciences (1991–present) and a member of the British Academy (1997–present)." />
The Egyptian Transition in Context
March 9, 2011 · 5:00-7:00PM
Columbia University, 1501 School of International and Public Affairs
Mona El-Ghobashy, Assistant Professor Comparative Politics, Barnard College
Timothy Frye, Marshall D. Shulman Professor of Post-Soviet Foreign Policy, Columbia University
Mirjam Künkler, Assistant Professor of Near Eastern Studies, Princeton University
Alfred Stepan, Wallace Sayre Professor of Government, School of International and Public Affairs, Columbia University
Moderator: Michael Doyle, Harold Brown Professor of International Affairs, Law and Political Science, School of International and Public Affairs; Member of the Committee on Global Thought, Columbia University
This event explores the wider experience of countries that are attempting democratic transitions, including the "color revolutions" in Eastern Europe and the comparable events in other parts of the Islamic world. Alfred Stepan will place these transitions in comparative context. Timothy Frye will then draw comparisons to the post-Soviet Color Revolutions, and Mirjam Kunkler, to transition in Indonesia. Mona El-Ghobashy will comment more broadly on Egypt.