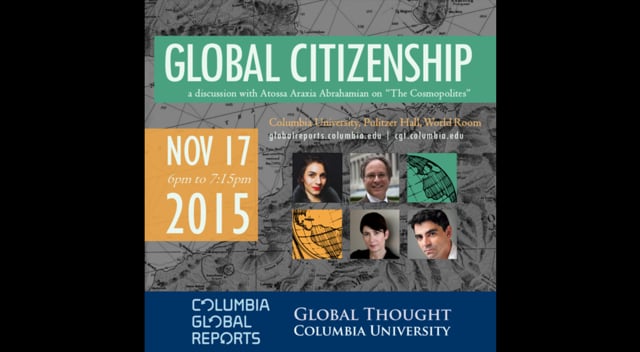 The buying and selling of citizenship has become a thriving business in just a few years. Entrepreneurs and libertarians are renouncing America and Europe in favor of tax havens like Singapore and the Caribbean. But as journalist Atossa Araxia Abrahamian discovered, the story of twenty-first-century citizenship is bigger than millionaires seeking their next passport.
When she learned that a group of mysterious middlemen were persuading island nations like the Comoros, St. Kitts, and Antigua to turn to selling citizenship as a new source of revenue after the 2008 financial crisis, she decided to follow the money trail to the Middle East. There, she found that the customers of passports-in-bulk programs were the United Arab Emirates and Kuwait, oil-rich countries that don't want to confer their own citizenship on their bidoon people, or stateless minorities who have no documentation.
In her timely and eye-opening first book, Abrahamian travels the globe to meet these willing and unwitting "cosmopolites," or citizens of the world, who inhabit a new, borderless realm where things can go very well, or very badly." />
November 17, 2015
Global Citizenship: A discussion with Atossa Araxia Abrahamian
World Room, Pulitzer Hall, Columbia University
Atossa Araxia Abrahamian, author of "The Cosmopolites: The Coming of the Global Citizen," opinion editor at Al Jazeera America, a longtime editor and contributor at The New Inquiry, and a contributing editor to Dissent magazine.
Nicholas Lemann, Director of Columbia Global Reports, Dean Emeritus and Professor of Journalism, Columbia Journalism School, Staff writer for The New Yorker.
Rosalind C. Morris, Professor of Anthropology, Columbia University, and Member of the Committee on Global Thought.
Joseph O'Neill, Distinguished Visiting Professor of Written Arts, Bard College, writer, and journalist.
Columbia Global Reports and the Committee On Global Thought welcome Atossa Araxia Abrahamian, acclaimed novelist Joseph O'Neill (The Dog, Netherland), and Columbia University Professor of Anthropology Rosalind C. Morris. Nicholas Lemann, director of Columbia Global Reports, will moderate a panel discussion on global citizenship, statelessness, and Abrahamian's debut book The Cosmopolites: The Coming of the Global Citizen.