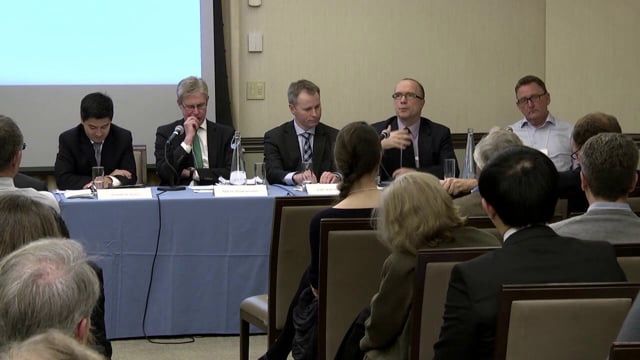 December 3, 2012
Long-Term Investing: An Optimal Strategy in Short-Term Oriented Markets
Panel: Sovereign Wealth Fund Governance for a Long-Term Investment Horizon
Mats Andersson, CEO, Fourth Swedish National Pension Fund (AP4)
Pal Haugerud, Director General, Asset Management, Norwegian Ministry of Finance
Philippe Ithurbide, Global Head of Research, Analysis and Strategy, Amundi
Adrian Orr, Chief Executive Officer, New Zealand Superannuation Fund
Moderator: Andrew Ang, Ann F. Kaplan Professor of Business, Columbia Business School
A global asset management expert and fund managers from Sweden, Norway, and New Zealand debated optimal governance structures for long-term investment. SWF representatives described the governance of their funds, including issues of transparency and risk management, followed by questions from the audience on investments in Europe, the derivatives market and building a portfolio for the long-term.
Read the transcript of this event: SWF Governance for a Long-Term Investment Horizon
Part of the Sustainable Investment research initiative.